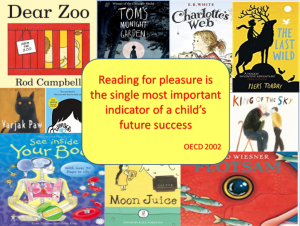 At Biddick Hall Infant and Nursery School we are working with the Open University to develop Reading for Pleasure with our children and staff.  As you can see in the OECD quote, children who read for pleasure are more likely to be successful later in life.
We read aloud to your children every day and we make time to chat about books and make recommendations.  Please explore our reading spine to find out what types of books we read to your children.
Our Reading Spine
We have recently updated our reading and poetry spine. Each year group has a defined set of core texts.  We have worked together to ensure our children experience a range of high quality texts and authors during their time at our school.  These books are also supplemented by many other texts to enrich children's experiences and develop their understanding.
"Great stories speak to us as individuals and some children will return to certain books again and again. Great stories also build our language because around 75 per cent of our vocabulary comes from our reading. Reading develops the ability to think in the abstract; to follow lines of thought. Schools that have a reading spine, build a common bank of stories that bind the community together. These are shared and deeply imagined common experiences." (Pie Corbett)