READING WEEK 1st March – 5th March 2021
Every year, we celebrate reading through a reading week.  This year our celebrations have taken place in school and at home.  We were all set a reading challenge – How many stories can you listen to in a week?  Many of our staff recorded videos of themselves reading their favourite stories for the children working at home.  We have created our own story settings and made our favourite characters using potatoes.  On World Book Day we dressed up as our favourite characters in school and at home, and we took part in an online draw along with the author and illustrator Liz Million, organised by South Tyneside Libraries.  We drew the characters from Little Red Riding Hood.  Take a look at our celebrations.
Today, Years 1 & 2 joined a live online event by the Royal Astronomical Society, with the author and illustrator of the book 'Look Up!'
This story encourages us all to look up from our phones to see the wonders of the universe.  We heard a full reading of the book read by Nathan Bryon and took part in a 'draw along' of the book's main character 'Rocket'.  We also learnt about the moon, meteors and how to become an astronaut.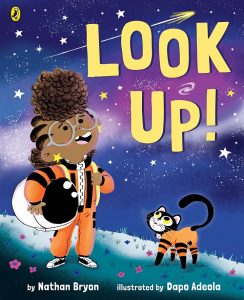 Dapo Adeola, the illustrator, told us to remember that there is no such thing as a wrong drawing! Take a look at some of our wonderful drawings of 'Rocket'.