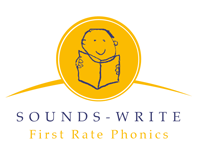 Phonics, Reading and Spelling
At Biddick Hall Infant and Nursery School we use the Sounds-Write programme to teach phonics,reading and spelling. We explicitly teach the children the 3 skills of:
blending
segmenting
phoneme manipulation (sound swapping).
The children are taught to decode and encode by understanding 4 clear concepts:
letters are symbols that represent sounds that they say
sounds can be spelt using 1,2,3 or 4 letters – f, oa, air, eigh
the same sound can be spelt in different ways – bone, coat, toe, window, shoulder
the same spelling can represent different sounds – bread, eat, great
All adults in school have been trained to teach the sounds-write programme and they all use the same consistent, concise language about sounds and spelling when teaching. We say that the letters spell sounds, they do not say sounds. We use phrases such as:
In this word…
If this was…. this would be a…
This can spell …. What else can it spell?
Say the sounds and read the word
Reading
The Sounds Write programme we use for phonics is also used in reading to support children with their decoding. Children read fully decodeable  books which match the phonics programme taught and our aim is that  all children are fluent readers by the time they leave KS1. We use planned daily story times and discrete comprehension lessons(Y2) to ensure that we teach the skills required for comprehension explicitly.  Pupils read in school to adults regularly and that are strong systems in place which ensure that practice takes place at home too.
Please see below for important links which may help you to help your child:
Help your child to read and write: New online course
'Help your child to read and write' is an online course in two parts – and the first part is free! It's aimed specifically at parents and carers who are interested in putting their children on the first steps to literacy. Part 1 covers the first seven units of the Initial Code, and Part 2 covers units 8 to 11 inclusive.
You can find the course by clicking on the graphic below, or go to: https://www.udemy.com/help-your-child-to-read-and-write/learn/v4/overview
Leaflet for YR parents:
Here is a leaflet that provides a guide for parents of children in reception:
Leaflet for YR Parents 
Download sheet for parents:
An information sheet with common spellings of the consonants and vowels can be downloaded here:
Common Spellings of the Consonants & Vowels 
Other Information: